AQUAMETRO VZO 4 Low Flow Version Fuel & Oil Meter (0.5 – 40 litre/hr) adalah flow meter arus bbm untuk mengukur bahan bakar minyak, BBM, Diesel, dan Solar dengan aktual akurasi (error) 1%.
Specifications :
CONTOIL® Oil meter VZO 4 Qmin.0.5
Ring piston meter for mineral oil, with roller counter
Low Flow version eg. single AGA use

Nominal diameter : DN 4 mm

Connection (bottom) : G1/8″ inside thread

Ring Piston or Oscillating Piston Type
Mechanical Totaliser (Litres) Non-reset
1/8″ BSP (Supplied c/w 10mm Oil line fittings)
Max Temp 60°C

Nominal pressure : PN 25 bar

Max Pressure 25 bar
Positive Displacement / Low Pressure Drop Design
Accuracy 1% of actual value
8 Digit Totaliser.

Dimensions : 65 x 65 x 79 mm

Installation position : horizontal / vertical

Measuring range (at visc. 1…20 mPa.s) : 1…80 l/h

Max. continuous flow Qn : 50 l/h

Max. measuring deviation : 2.0…80 l/h ± 1%

                                                 : 1…2 l/h +1/-2 %

Repeatability : ± 0.2%

Registration capacity : 100000 Litres
Specifcations Table :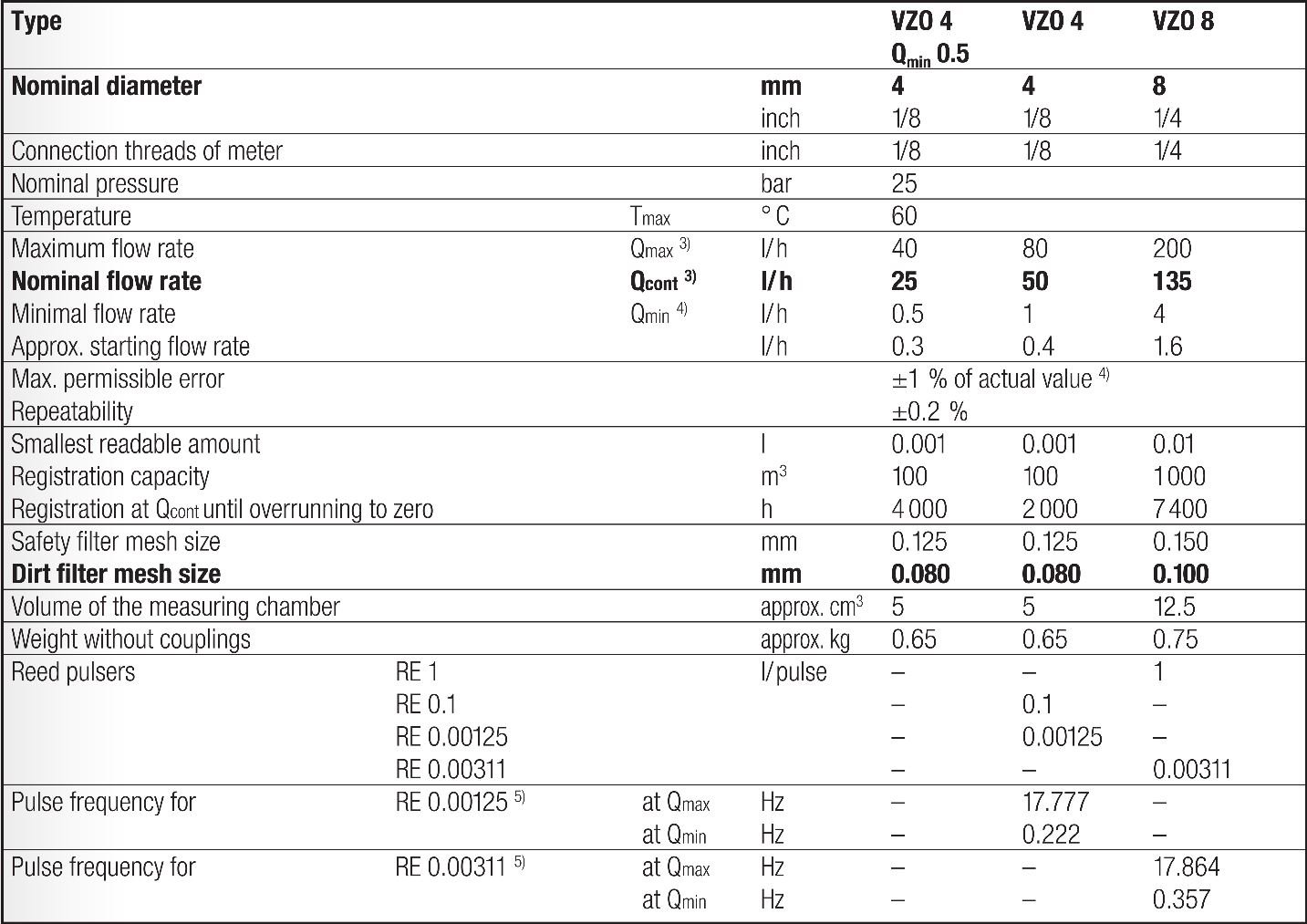 DOWNLOAD : KATALOG AQUAMETRO
PT Putra Siduasaudara Indonesia
Kami berlokasi di Jakarta, Indonesia. Kami adalah Distributor-Agent-Pemasok/Supllier/Importir pengukur aliran (Flow Meter) yang dikelola secara profesional.
Produk kami banyak digunakan di berbagai bidang, termasuk kelistrikan, industri kimia, minyak dan gas, tekstil, pemeliharaan air, perlindungan lingkungan, dll.
Kami menyediakan solusi pengukur aliran (Flow Meter) yang lengkap dengan berteknologi tinggi dan berkualitas tinggi dari berbagai brand.
Pelayanan Kalibrasi Flow Meter/ Water Meter :
Jasa Kalibrasi, Jasa Tera, Jasa Tera Ulang, Untuk Pengujian Flowmeter (Sertifikat Metrology) ;
Water Meter,
Oil Meter,
Gas Meter,
Listrik Meter
Agriculture Moisture Meter &
Timbangan.
Informasi Pemesanan AQUAMETRO VZO 4 Low Flow Version :
Phone:
021 – 2913 – 5706
WA:
+62812 – 8836 – 5600
Email:
p722indonesia@gmail.com
Address:
Mega Glodok Kemayoran – Mall MGK Lantai UG – Blok D6 No. 3
Opening Hours:
Monday – Friday ; 09:00 am – 17:00 pm
Saturday – Sunday ; Closed